"Dedicated to Making Science Reader-Friendly for Children"


What you need to know to use this site:
They deserve to be treated humanely
Wild animals do not make good pets
Animal behavior is fun and interesting
Mary Jo Nickum is a magazine editor and freelance writer, who now writes for children. Her books and articles introduce animals and some of their most interesting traits to children.




World's Most Dangerous Bird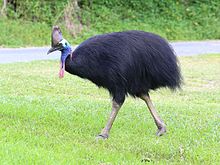 The cassowary (Casuarius casuarius) is a large, flightless bird most closely related to the emu. Although the emu is taller, the cassowary is the heaviest bird in Australia and the second heaviest in the world after its cousin, the ostrich. It's covered in dense, two-quilled black feathers that, from a distance, look like hair. These feathers are not designed for flight but for protection in the cassowary's rain forest habitat, keeping the bird dry and safe from the sharp thorns found on many rain forest plants. Long, strong bare quills hang from the bird's tiny wings.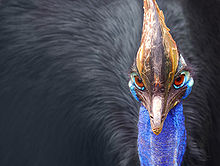 All three cassowary species have a casque, (cask), also called a helmet, that starts to develop on top of their head at one to two years of age. The casque is made of a sponge-like material and covered with a thick layer of keratin, the same thing our fingernails are made of. Although it is quite sturdy, the casque can be squeezed in the middle fairly easily.
No one knows for certain why cassowaries have a casque. It could reveal a bird's age or dominance or be used as a sort of helmet or shock absorber that protects the bird's head as it pushes through the rain forest underbrush. The casque could also help the bird make sounds. Cassowaries hiss and whistle to communicate, and clap their bills or rumble when making a threat. The rumble is so low and powerful that keepers working with the birds report they can feel it in their bones.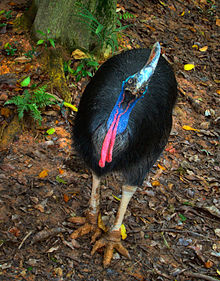 3-toed foot with a dagger-like claw
The cassowary is considered, rightfully, the most dangerous bird in the world. Each 3-toed foot has a dagger-like claw on the inner toe that is up to 4 inches long. The cassowary can slice open any predator or potential threat with a single swift kick. Powerful legs help the cassowary run up to 31 miles per hour through the dense forest underbrush.
These fascinating birds range across Northern Australia, New Guinea, and surrounding islands. They live in tropical forests and wetlands. Cassowaries are frugivores that feed on the fruits of several hundred rain forest plants. Because their digestive tract is relatively short, their droppings contain fruit seeds that are only partially digested. Sometimes these seeds are so large that no other animal can swallow them.
Cassowaries are solitary most of the year, living in loosely defined home ranges. If two males meet accidentally, they stretch, fluff up their feathers, and rumble at each other until one decides to leave. But if a male meets a female, she can usually make him run merely by stretching a little and staring quietly.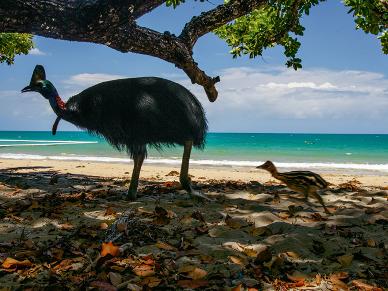 Breeding season coincides with the time of year when fruit is most abundant in the bird's rain forest home: June to October. The solitary female becomes more tolerant of adult males as breeding season approaches. The male struts in a circle around the female and calls to her in a series of low booms. The pair stays together for a few weeks until the female is ready to lay eggs, and they find a nesting site made of a simple scrape in the ground and a few leaves. Once the female lays her three to five green eggs, she moves on, leaving the male to incubate the eggs and look after the hatchlings. Like the female emu, she may find and breed with another male and lay another clutch of eggs. A male sits on his nest to incubate the eggs for up to 60 days. When the brown-and-tan striped chicks hatch, he leads them to his regular feeding grounds, protecting them and teaching them the ways of the world. Youngsters stay with their father for up to 16 months, but usually 9 to 10 months, when he chases them off to live on their own so he can get ready to breed again. By this time, they are almost adult size and can certainly take care of themselves.
FUN FACTS
The booming sound a cassowary makes is the lowest known call of any bird and is right at the edge of human hearing.
The name cassowary seems to be of Papuan origin. "Kasu" means horned, and "weri" means head, referring to the bird's casqued or helmeted head.
Some people in New Guinea believe that cassowaries are reincarnations of female ancestors, while others believe the cassowary was the first mother.
The first cassowary arrived in Europe in 1597 for the collection of Emperor Rudolf II.
Largest: Southern cassowary is 4 to 5.6 feet tall; females weigh up to 128 and males weigh up to 75 pounds

Smallest: Dwarf cassowary is 3.2 to 3.6 feet

tall and weighs up to 39 pounds.