"Dedicated to Making Science Reader-Friendly for Children"


What you need to know to use this site:
They deserve to be treated humanely
Wild animals do not make good pets
Animal behavior is fun and interesting
Mary Jo Nickum is a magazine editor and freelance writer, who now writes for children. Her books and articles introduce animals and some of their most interesting traits to children.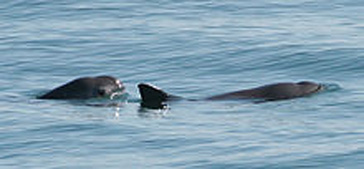 Basic Facts About Vaquitas:
The vaquita (Phocoena sinus), also known as the Gulf of California harbor porpoise, is the smallest and rarest of the cetaceans - which include whales, dolphins, and porpoises. The vaquita has a gray body with a pale gray or white belly and a dark patch around its eye. They are very rarely seen in the wild.
Diet
Vaquitas eat ocean fish such as Gulf croaker and bronze-striped grunts. They are also known to eat squid.
Population
Fewer than 50 vaquitas may remain in the wild.
Range
Vaquitas have the most restricted range of any marine cetacean. They appear to live only in the northern end of the Gulf of California. The Mexican government created the Upper Gulf of California Biosphere Reserve in 1993 in part to protect vaquita habitat.
Behavior
Vaquitas use sonar to communicate and navigate Gulf waters. When seen, they are either alone or in small groups of two or three. The vaquita is also the only porpoise species found in such warm waters.
Reproduction
Mating Season: April to May.
Gestation: 10-11 months.
Number of offspring: 1 calf.
A female will give birth every 2 years or so. Calves are between 28-31 inches long at birth, weighing about 17 lbs.
Little is known about the life cycle of vaquitas. Age at sexual maturity, longevity, reproductive cycle and population dynamics estimates have been made, but further research is needed. Most of these estimates come from vaquitas that have been stranded or caught in nets. Some are based on other porpoise species similar to vaquitas.
Vaquitas are estimated to live about 20 years in ideal conditions. They mature sexually at 1.3 m long, as early as 3 years old, but more likely at 6. Reproduction occurs during late spring or early summer. Their gestation period is between 10 and 11 months. They have seasonal reproduction, and usually have one calf in March. The inter-birth period, or elapsed time between offspring birth, is between 1 and 2 years. The young are then nursed for about 6 to 8 months until they are capable of fending for themselves.
Schooling
Like other Phocoena, vaquitas are usually seen singly. If they are seen together, it is usually in small groups of two or three individuals. Less often, groups around ten have been observed, with the most ever seen at once being 40 individuals
Threats
The greatest threat to the remaining vaquita is incidental death caused by fishing gear. Vaquitas are known to die in gillnets set for sharks, rays, mackerels and chano, as well as in illegal and occasionally permitted gillnet sets for an endangered fish called totoaba. They are also killed by commercial shrimp trawlers. It is believed that about 30 vaquitas are lost to these threats each year.
Because there are so few vaquita left and they are confined to such a small area, they may also be vulnerable to climate change, which could affect food availability or habitat conditions in the Gulf of California.
More on Vaquita:
Protection Status
Endangered Species Act: Endangered
IUCN Red List: Critically Endangered
CITES: Appendix I
The vaquita has taken on the title of the most endangered cetacean in the world. It has been listed as critically endangered since 1996. The population was estimated at 600 in 1997, below 100 in 2014, approximately 60 in 2015 and approximately 30 in November 2016, leading to the conclusion that the species will soon be extinct unless drastic action is taken.
Fast Facts
Length: Females are longer than males. Females top out at around 5 feet males around 4.6 feet.
Weight: Up to 120 lbs.
Lifespan: The oldest known vaquita was a female, estimated at 21 years old.
Conservation Efforts
Vaquitas have never been hunted directly, but their population is declining, largely because of animals becoming trapped in illegal gillnets intended for capturing the totoaba, a large critically endangered fish of the drum family endemic to the Gulf. A trade in totoaba swim bladders has arisen, driven by demand from China (where they are used in soup, being considered a delicacy and also erroneously thought to have medicinal value), which is greatly exacerbating the problem. Estimates placed the vaquita population at 567 in 1997. Estimates in the 2000s ranged between 150 to 300.
With their population dropping as low as 85 individuals in 2014, inbreeding depression has probably begun to affect the fitness of the species, potentially contributing to the population's further decline.

On 16 April 2015, Enrique Peña Nieto, President of Mexico, announced a program to conserve and protect the vaquita and the similar-sized totoaba, including a two-year ban on gillnet fishing in the area, patrols by the Mexican Navy and financial support to fishermen impacted by the plan. However, some commentators believe the measures fall short of what is needed to ensure the species' survival.

By November 2016, according to a report released in February 2017, the population had declined to about 30, and it was judged that capture of some of the remaining vaquitas and conducting a captive breeding program within a secure sanctuary was the only remaining hope for survival. This is despite the fact that porpoises generally fare poorly in captivity.