Dedicated to Making Science Reader-Friendly for Children
What you need to know to use this site:
Animals are not people.
They deserve to be treated humanely.
Wild animals do not make good pets.
Animal behavior is fun and interesting.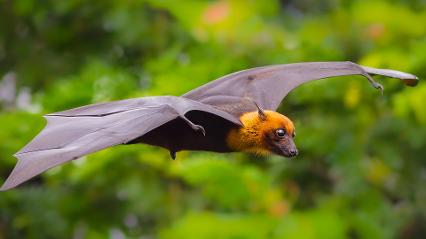 Bats are myth-understood. There may be more myths about bats than any other animal. Some people think bats are blind bloodsuckers that fly into your hair and carry rabies. In fact, these flying mammals are extremely useful to humans and are gentle, intelligent creatures. Out of nearly 1,000 bat species, only 3 feed on blood, and it is usually that of cattle. They belong to the taxonomic order Chiroptera, which means "hand wing."
These flying mammals are divided into two major groups. Megachiroptera or mega bats are medium- to large-size bats. Many eat fruit, pollen, or nectar; some eat small land animals, and some eat fish. They have big eyes and excellent eyesight. The other major group is Microchiroptera or micro bats, which are smaller bats that eat mostly insects. They use echolocation, detecting sound waves to navigate and identify the flying insects they eat. Included in this group is the smallest bat, the Kitti's hog-nosed bat, which weighs less than a penny.
There are 47 bat species in the US, and 21 of the 23 in San Diego County are insectivorous; the other two species eat nectar. San Diego County is home to the largest bat in North America, the Western mastiff bat, which has a wingspan of over 22 inches (56 centimeters). The hoary bat is the most common bat in the US and is even found in Hawaii. The Kitti's hog-nosed or bumblebee bat of western Thailand and southeast Burma is considered the world's smallest mammal.
Bats are the only mammals capable of true flight. Bat wings contain the same bones as a four-fingered human hand. Indeed, a bat's wings ARE its hands. A thin, strong membrane of soft, velvety skin spreads across these bones, connecting them to the bat's back and legs, like the fabric and ribs of an umbrella. The thumb clings to surfaces when the bat alights.
The surface of a bat's wings has small, sensitive bumps called Merkel cells. Each bump has a tiny hair in the center, allowing the bat to collect information about the air flowing over its wings so it can change the wing's shape to fly more efficiently
Fun Facts about Bats:
A bat's life span v

aries by species; average 5 years, up to 30 years
Gestation: Varies by species and food availability; 40 days to 10 months
Number of pups: Usually 1 per year; some species have 2 or 3
Weight at birth: 0.008 to 13 ounces (0.22 to 370 grams)
Wingspan: Largest - flying fox, up to 6 feet (1.8 meters); smallest - KItti's hognosed bat, less than 6 inches (15.2 centimeters)
Weight: Heaviest - flying fox, 3.3 pounds (1.5 kilograms); lightest - Kitti's hognosed bat, 0.07 ounces (2 grams)
Vampire bats adopt orphaned young.
Some seeds do not sprout unless they have passed through a bat's digestive system.
Bat finger bones are very flexible, with cartilage that lacks calcium and other minerals nearer the tips so they can bend without splintering.
One out of every five mammals in the world is a bat.
A large group of bats flying in the sky is called a "cloud."
All bats live on milk from birth up to six months of age.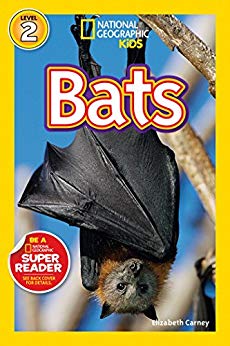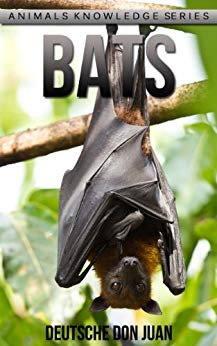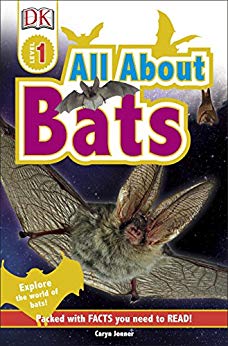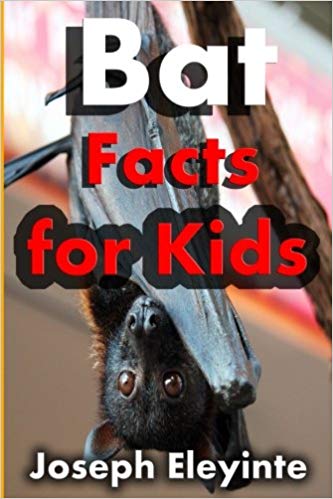 Ask me a question about animals at mjnickum@gmail.com .
Your answer will appear on the "Answers to Questions" page.