"Dedicated to Making Science Reader-Friendly for Children"


What you need to know to use this site:
They deserve to be treated humanely
Wild animals do not make good pets
Animal behavior is fun and interesting



Mary Jo Nickum is a magazine editor and freelance writer, who now writes for children. Her books and articles introduce animals and some of their most interesting traits to children.





White Rhinoceros
(Ceratotherium simum)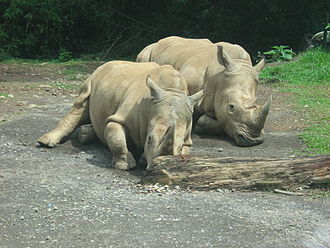 Basic Facts About the White Rhino:
There are two subspecies of white rhino; the

southern white rhinoceros

(Ceratotherium simum simum) and the northern white rhinoceros. As of 31 December 2007, there were an estimated 17,460 southern white rhino in the wild, making them by far the most abundant subspecies of rhino in the world; the number of southern white rhinos outnumbers all other rhino subspecies combined. South Africa is the stronghold for this subspecies (93.0%), conserving 16,255 individuals in the wild in 2007. There are smaller reintroduced populations within the historical range of the species in Namibia, Botswana, Zimbabwe, Uganda and Swaziland, while a small population survives in Mozambique. Populations have also been introduced outside of the former range of the species to Kenya and Zambia.


White rhinoceroses are found in grassland and savannah habitat. Grazers that eat grass, preferring the shortest grains, the white rhinoceros is one of the largest pure grazers. It drinks twice a day if water is available, but if conditions are dry it can live four or five days without water. It spends about half of the day eating, one third resting, and the rest of the day doing various other things. White rhinoceroses, like all species of rhinoceros, love wallowing in mud holes to cool down. The white rhinoceros is thought to have changed the structure and ecology of the savanna's grasslands. Comparatively based on studies of the African elephant, scientists believe the white Rhino is a driving factor in its ecosystem. The destruction of the mega herbivore could have serious cascading effects on the ecosystem and harm other animals.


White rhinoceroses live in crashes or herds of up to 14 animals (usually mostly female). Sub-adult males will congregate, often in association with an adult female. Most adult bulls are solitary. Dominant bulls mark their territory with excrement and urine. The dung is laid in well-defined piles. It may have 20 to 30 of these piles to alert passing rhinoceroses that it is his territory. Another way of marking their territory is wiping their horns on bushes or the ground and scrapes with its feet before urine spraying. They do this around ten times an hour while patrolling territory. The same ritual as urine marking except without spraying is also commonly used. The territorial male will scrape-mark every 98 ft or so around its territory boundary. Subordinate males do not mark territory. The most serious fights break out over mating rights with a female. Female territory overlaps extensively, and they do not defend it.
White rhinoceroses produce sounds which include a panting contact call, grunts and snorts during courtship, squeals of distress, and deep bellows or growls when threatened. Threat displays (in males mostly) include wiping its horn on the ground and a head-low posture with ears back, combined with snarl threats and shrieking if attacked. The vocalizations of the two species are slightly different. The white rhinoceros is quick and agile and can run 31 mph.
Females reach sexual maturity at 6–7 years of age while males reach sexual maturity between 10–12 years of age. Courtship is often a difficult affair. The male stays beyond the point where the female acts aggressively and will give out a call when approaching her. The male chases and or blocks the way of the female while squealing or wailing loudly if the female tries to leave his territory. When ready to mate the female curls her tail and gets into a stiff stance during the half-hour copulation. Breeding pairs stay together between 5–20 days before they part their separate ways. The gestation period of a white rhino is 16 months. A single calf is born and usually weighs between88 and 143 lb. Calves are unsteady for their first 2 to 3 days of life. When threatened the baby will run in front of the mother, who is very protective of her calf and will fight for it vigorously. Weaning starts at 2 months, but the calf may continue suckling for over 12 months. The birth interval for the white rhino is between 2 and 3 years. Before giving birth the mother will chase off her current calf. White rhinos can live to be up to 40–50 years old.
Conservation Facts
Adult white rhinos have no natural predators (other than humans) due to their size, and even young rhinos are rarely attacked or preyed on due to the mother's presence and their tough skin. One exceptional successful attack was perpetrated by a lion pride on a roughly half-grown white rhinoceros, which weighed 1,055 kg (2,326 lb), and occurred in Mala Mala Game Reserve, South Africa.
Historically the major factor in the decline of white rhinos was uncontrolled hunting in the colonial era, but now poaching for their horn is the primary threat. The white rhino is particularly vulnerable to hunting, because it is a large and relatively unaggressive animal with very poor eye sight and generally occurs in herds.
Despite the lack of scientific evidence, the rhino horn is highly prized in traditional Asian medicine, where it is ground into a fine powder or manufactured into tablets to be used as a treatment for a variety of illnesses such as nosebleeds, strokes, convulsions, and fevers. Because of this demand, several highly organized and very profitable international poaching syndicates came into being and would carry out their poaching missions with advanced technologies ranging from night vision scopes, silenced weapons, darting equipment and even helicopters. The ongoing civil war in the Democratic Republic of Congo and incursions by poachers primarily coming from Sudan have further disrupted efforts to protect the few remaining northern rhinos.
The Northern White Rhino is critically endangered to the point that there are only three of these rhinos remaining in the world, all in zoos. To keep peace, several conservation tactics have been taken to prevent this species from disappearing from the earth. Perhaps the most notable type of conservation these Rhinos have received is having moved to Kenya's Ol Pejeta Conservancy from Dvur Kralove Zoo in the Czech Republic on 20 December 2009, where they have been under constant watch every day, and have been given favorable climate and diet, both of which they have adapted to well, in order to boost their chances of reproducing.